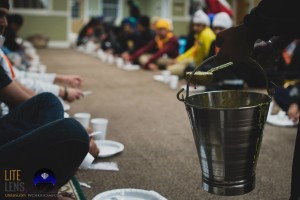 Ever since I can remember, I've been sitting on Gurdwara stages with my father – playing tabla, harmonium, or crying in my mother's lap. Appearing on stage often meant we were constantly under the spotlight and given plenty of attention from sangat. Uncles and aunties frequently came up to me to give compliments on my tabla playing, since I was so young. Almost everyone knew who we were, and many people would meet or greet me with love because I was the son of a Bhai Sahib. We were constantly given respect by the sangat, due to our being at the forefront of the scene.
     But today I would like to focus on someone else. Not the committee members, kathavachaks, or famous Raagis (all whom deserve respect and play vital roles in the Panth and Gurdwara ecosystem). Rather, today I would like to discuss the people who are left in the background. The average Joe (or Jeet) who spends hours doing seva but doesn't get any fame, respect, or recognition. For the longest time, I took for granted just how complex it was to run the Langar in just one Gurdwara. Countless volunteers joining together to feed the sangat, with no personal gain in mind – now that is true selfless service. Every time I visit the Langar Hall, I see so many different faces – all pegs in this giant wheel, turning and churning to continue the operation of Langar. Just normal, random people, making rotis, washing dishes, rolling dough, setting plates and serving food. People of all ages, from little boys to old women and everyone in between.
     The sevadaars who serve food in the Langar line are visible to the sangat, but the people washing dishes or cleaning are often hidden in the back. We all eat and put our dishes away, but how often do we think about what happens next? How would the system work without all of these people doing their part? Have we ever stopped and thought, if there weren't enough volunteers, how would the dishes get washed?
     On random days of week, at odd hours of the night, you can find people there, ever ready to serve. It amazes me that there is always someone who sees a pile of dishes and decides to take out his or her time to do something about it. The necessary tasks somehow always gets done, relying on random sevadars to come do them. There are times when no one is taking care of a seva and other times when there are so many volunteers that there is no space to join them! From dumping trash to mopping the floors, the Sikh spirit of seva is still alive. Seeing it always fills me with happiness and inspiration. These are the real heroes, wonderful selfless sevadars without whom the whole system would collapse!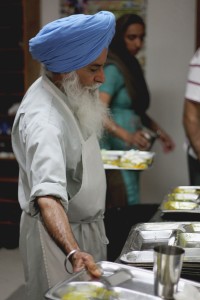 It never fails to amaze me how random and mixed the group of volunteers is. They're not all amritdhari or even kesadhari. Countless people who don't fit the typical "Gursikh" image are always doing seva, vacuuming, rolling rugs, being involved and helping out. These people deserve the real praise and recognition. This is not the same as getting time on stage and showing how fancily you can play harmonium, how vocally skilled you are or what bols you can play on a tabla, activities which are usually followed by praise or compliments. In fact, most of the background sevas don't come with any credit or recognition. There is a reason Guru Gobind Singh Ji told Bhai Nand Lal to wash the dishes of the Khalsa, why Gursikhs often advise us to dust the shoes of Sangat. Sevas like these are meant to keep us humble.
     Whatever our motivation may be, ego usually tries to poke its head in. That's why many people try to do seva in private. To be honest, I often face an internal struggle between not wanting anyone to see me while at the same time secretly hoping someone will! It's tough not to become egotistical once you start doing a lot of seva. Something that is supposed to create a sense of humility can also give rise to more ego. In order for it to be truly fruitful, it is important for seva to be done without ulterior motives or expectation of rewards. It is even more beneficial if one were to do Simran at the same time.
     I always wondered, what is the motivation and drive behind it? Why do people do it? And let me tell you, the only way to find out is by trying it yourself. It's an amazing feeling, standing side by side with a stranger, with the same purpose and goal: to be one of many in this huge effort. No obligations, no expectations. I can say from personal experience that the feeling of peace and contentment you get doing seva is incomparable. Just knowing that you are doing something, however small, is satisfying. The contentment and sense of purpose I get from it is just.. I've never felt that anywhere else. And I've barely done any seva in my entire life!
Now, getting to the title of this post:
We're all familiar with the famous Sikh Slogan "Degh Tegh Fateh". Notice that the word "Degh" comes first. The Degh part is just as important to victory as the sword, or the warrior (sipahi) spirit. This means victory to the "cooking pot", representing the concept of feeding and serving the community, making sure everyone is well fed in addition to providing protection and being politically victorious.
     Over 500 years ago, Guru Nanak Dev Ji made the best investment of all time with only 20 rupees. To this day, that true bargain is paying off for the thousands who are getting fed around the world through the institution of Langar. If that's not a good deal then I don't know what is! People in all parts of the world are sitting together like equals and eating meals every single day, for free, all thanks to Dhan Guru Nanak Dev Sahib Ji.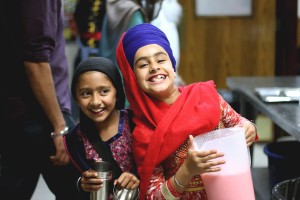 Those who kept the Langars going and kept the Khalsa Army fed played a vital role in our Panth's history. I say unsung heroes because we tell tales and sing ballads about the bravery and valor of our heroes who wielded the sword, but what about those selfless Sikhs who fed and served the Khalsa? The Sikhs who did seva in the Langar, like Bhai Manjh? Who sacrificed their families, comfort and personal health for the Guru's institution of Langar? Sikhs like Bhai Taru Singh who gave up their lives for the Khalsa? For the amazing Khalsa Langar, where royalty and highly educated people like Bhai Nand Lal washed away their egos and purified their mind. That same Langar where emperors had to come sit at the same level as common people. Dhan Guru Ka Langar which even the enemy was welcome to come partake in!
     It really humbles me to see kids, couples, families, and seniors on random days all cleaning the dishes. The feeling they get upon seeing a pile of unwashed plates, with no one there washing them, that feeling of shared responsibility, that, "Yes, I want to do something, to contribute, to make a difference." The thought that "I'm willing to stick my hands in a sink full of yellow water and people's leftovers rather than go home 15 minutes early." It is very inspiring. It gives me hope. There is something glorious about it.
     These are real heroes that we don't acknowledge. But then again, maybe that's what makes it special. There is something magical about coming outside and seeing all the shoes arranged in a neat line without knowing who did it. Perhaps recognizing these people and giving them awards would ruin it and take it all away. If you do these sevas, I salute you. If you truly serve, selflessly, I respect you. You are hundreds of times better than me and perhaps many others who preach from stages. And if you don't, you should try it sometime. It's an amasingh feeling.
by Vikram Singh with
Original Article by Satinder Gill Brar
Disclaimer: I did NOT write the contents of this article. It was originally published in "Punjab Mail USA" in Punjabi. I merely translated the whole article into English so that it could reach another audience. The ideas and points made in the article are not my own, they belong to the original author. I tried my best to keep all the meanings as close to the original as possible and avoided making personal adjustments or "corrections", therefore the grammar may not be the best. If you can read gurmukhi, I would suggest you read the original Punjabi article attached below rather than my poor translation. Enjoy!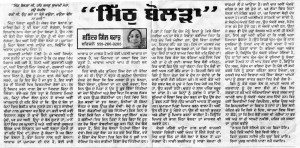 "mith bolarraa jee har sajan suaamee moraa ||
My Dear Lord and Master, my Friend, speaks so sweetly.
ho sanmal thhakee jee ouhu kadhae na bolai kouraa ||
I have grown weary of testing Him, but still, He never speaks harshly to me."
"It is important to speak sweetly. If we spoke harshly, perhaps no one would like it. Even a person who himself speaks roughly doesn't like it when someone else speaks harshly with him. So then why do we speak meanly? God loves those who speak sweetly, because He himself is sweet.
Gurbani is the sweetest. If we listen carefully then we realize that every word is full of sweetness, the more Gurbani we read the more sweetly we talk. It seems as if those who read Gurbani are unable to utter harsh words. God himself is sweet, those who believe in Him can't be bitter-  whether this is true or false, is a daily experience in our life. The god loving person will speak lovingly. Sometimes we meet such a person whom just listening to causes us to say, "his words were like music to my ears". We try to compare them with so many things. Sometimes some people may not have as much of an influence from their appearance but when we hear their words, we feel the bliss in our ears, and when we hear the words of some people who look outwardly beautiful, we say they looked nice but see how harshly and roughly they speak, no sweetness at all. Voice is a gift from God. Some have deep voices while others have high ones, but sweetness is important in words, the voice itself becomes beautiful.
Once we were listening to a tape of Veer Bhupinder Singh. He gave a really good example: One time there was a boy who told a lot of lies, spoke meanly, hurt others – one day his father gave him some nails and said go put them into the wooden floor outside. He told him, for each mean thing you do or lie you tell, hammer that many nails into the wood every day. The boy started to put nails in every day. Sometimes 2 nails and some days 4, like this the nails eventually ran out. Then one day his father said now start taking the nails out. For each good deed you do and each truth you tell, take one nail out. Like this the boy started taking nails out, sometimes 1 sometimes 2. One day the boy happily said today all the nails have been taken out. The Dad said okay show me where you took the nails out from and the boy pointed out the holes in the wood, saying "look at these marks." This represents whenever we speak meanly to someone or hurt their heart and say sorry later. But those harsh words already hurt them and bore a hole in their heart. Saying sorry later, then doing the same thing again makes that apology lose its meaning. We should never hurt someone so much in life that we have to apologize over and over again. If we say something mean and make a hole in someones heart, it doesn't fill up so easily. After time there is some healing, but those who get used to making holes and cuts in others' hearts don't let those injuries fill up. They are stuck in their habits. Our Lord Father is loving. We believe in His existence. We should love his creation and beings. Because even animals understand the language of love and sweet speech.
Wearing expensive clothes shows our outer beauty. But our sweet or harsh speech shows how beautiful we truly are inside. Our personality is brought forth by our way of speaking. Sometimes we are full of poison inside, but we try to speak sweetly in front of others, but this false show only lasts so long. Our true form eventually comes forth, those who are truly sweet inside are full of peace and contentment.  Those who are empty inside, their words will be hollow and  meaningless, like the saying, "An empty pitcher makes more noise." It rolls around causing pain to others and suffers pain itself too. A full pitcher stands steady, and since it is full in itself, it doesn't hurt others nor does it get hurt itself. because it is full of patience and contentment. It its wrong to call someone poor for lack of money, but negative thoughts, bad ideals and speaking falsely [truly make a person poor] which is bad.
By saying mean words to others we increase our inner agony. Then these angry and spark-like words burn us from inside. Then we become the victims of many illnesses such as depression, blood pressure and other headaches. Therefore try not to put nails into anyone's heart or soul such that the holes cannot be filled by  the word "sorry", nor should we use our false poison filled words."
"naanak fikai boliai than man fikaa hoe ||
O Nanak, speaking insipid words, the body and mind become insipid.
fiko fikaa sadheeai fikae fikee soe ||
He is called the most insipid of the insipid; the most insipid of the insipid is his reputation.
fikaa dharageh satteeai muhi thhukaa fikae paae ||
The insipid person is discarded in the Court of the Lord, and the insipid one's face is spat upon.
fikaa moorakh aakheeai paanaa lehai sajaae ||1||
The insipid one is called a fool; he is beaten with shoes in punishment. ||1||"
by Vikram Singh with
As you can see from the other posts in this section, I love customizing everything. And being a techie, my smartphone is no exception. Part of the reason I like the Android OS is the freedom and ability to tweak and change everything. Even when I used to have a blackberry, I had it customized with themes.  Its pretty crazy how creative people have gotten with their cell phone customization. If you're going to be using something a lot, you might as well set it up in a way that looks appealing to you, right? There are forums and website full of people showing their different wallpapers, icons, and widgets combining to form some very unique setups. I myself have gone through a few different setups over the past couple of years, and I thought I'd share them here. I won't be explaining how I made my homescreens look like this here,  but if anyone is interested in "pimping" their android phone, feel free to leave a comment below and I'll guide you through it!
by Vikram Singh with
These days iPads and other tablets are commonly used to display shabads during kirtan. Some places a monitor is used so that the kirtani  can see the shabad. Tablets screens can be hard to see at an angle and sometimes they are an awkward size to put on a vaja. If the device is placed higher and at more of an angle, the rest of the sangat on stage can see the shabad as well. For these reasons I was requested to help make a stand that could securely hold a tablet at an angle and high enough so that it would be visible. Fortunately I was given a monitor stand to use as a base, since building a complete stand from scratch is difficult. I was also given some cut up pieces of wood. I used wood glue and really small nails to put the pieces  of wood together to form a platform with edges so nothing would slide off. Then I painted the back silver and added a soft black felt to the front so the devices wouldn't get scratched or slide around.  I added a small piece in the front so the tablet would not fall forward and finally mounted the whole thing onto the monitor stand.
The actual construction of it:
Here is the finished product:
by Vikram Singh with